---
How to Create the Perfect Elevator Speech

If you're ready to dramatically increase the business you get from attending networking event and conferences – do not miss out on this program!
Do you dread answering the question "What do you do?"
Are you confused exactly HOW to create an effective and authentic "elevator speech"?
Have you spent hours trying to come up with the perfect way to approach people while networking yet still feel completely uncomfortable?
Do you enjoy meeting people but wonder how to go from casual conversation to client?
And, most importantly, are you starting to think that networking and attending events as a way of getting clients is OVER, and you're looking for a way that WORKS?
In this audio program, we are going to give you a step-by-step process for creating your Elevator Speech.
Click here to learn more about creating your perfect elevator speech
OR BUY IT NOW FOR $79
---
Your Fastest Path to Cash
Moving from Broke to $$$ In Just 30 Days

Realizing that business owners need quick and easy-to-implement solutions to increasing cash flow, we came up with an simple, cost-effective, audio program that will help you...
Increase your focus on activities which lead to more customers and more money in your pocket - immediately!
Learn several powerful processes that will help you act in spite of fear.
Remove confusion and overwhelm - you will know exactly what to do every morning to move your business forward.
Learn a sales process that is more about giving than getting!
Finally experience the emotional and financial freedom of owning a successful business!
If you need a quick and easy solution, read more about "Your Fastest Path to Cash"
OR BUY IT NOW FOR $97
---
Never Fight About Money Again
It's been shown that the number one thing
couples fight about is MONEY.
With a divorce rate of over 50%,
have you ever wondered how to effectively
handle the topic of money and
avoid becoming a statistic?
It's true. Couples fight more about money than anything else. More than chores, child rearing, in-laws, even sex!
See if this sounds familiar:
Is one of you a spender and the other a saver?
Do most of your arguments have to do with either enjoying life now or being prepared for a rainy day?
Do you hide purchases or credit card statements from your partner?
Are you honest about how much debt you have?
Does a simple dinner out result in an argument about how much to tip?
Business owners – does your spouse not understand how much you have to invest back into your business?
If you answer yes to even a couple of these questions, then keep reading!
OR BUY IT NOW FOR $35
---
Top Ten Strategies to Success
In 2006, I was flat broke. Actually, if I'm honest, from 2002 to 2006 I was flat broke. I had started a business (I'm a behavioral analyst) and I knew very little about marketing, sales or business management.
Then, BAM! in 2007 I tripled my income from the previous year…all while taking more time off (two 10-day vacations, several 4-5 day trips, etc.) and having a lot more fun in my business.

As people saw my growing success –
they started asking "What are you doing differently?"
While most people wanted "the silver bullet" answer, the truth is there is no one thing. It's a combination of things. And I didn't discover these on my own.
I learned from studying extremely successful people. I saw common success strategies, I paid attention, I took the recommended actions – and now I'm seeing the results.
They say the definition of insanity is doing the same things over
and over but expecting different results.
Is this next year in business really going to be different for you? If so, how? What behaviors are you going to change? What actions will you take?
Read more about the Top Ten Strategies for Success
OR BUY IT NOW FOR $197
---
How to Increase Sales by Understanding Your Prospects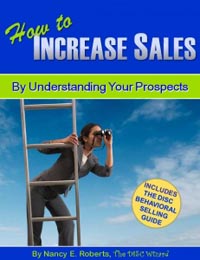 No matter what business you are in, if you are not effective at selling your product or service, one thing is certain – you won't be in business very long. Whether you're a sales person, sales manager or a business owner, you recognize that improving sales is the number one way to grow your business.
This audio program will teach you to recognize your prospects DISC style and adapt yourself for greater results.
Since we know that prospects buy from people they KNOW, LIKE and TRUST, how do we create greater rapport and connection with our prospect?
Read more about the How to Increase Sales program.
OR BUY IT NOW FOR $97
---
Fearless Prospecting System – Moving From Fear to Freedom in Just 30 Days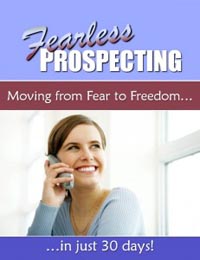 Ask yourself these questions:
Do you find yourself "grabbing another cup of coffee" or "checking email" when it's time to call prospects?
Are you feeling guilty at the end of the day for not calling on potential new customers?
Are you convinced you have a great opportunity/product but your inability to push through fear of rejection prevents you from prospecting at the level you could be?
If this rings true for you, then read more about our Fearless Prospecting System.
OR BUY IT NOW FOR $247
OR 3 MONTHLY PAYMENTS OF $89
---
How to Thrive in the New Economy
It's been almost a year since the official "fall" of the economy. Some things have rebounded, while others have not.
Has your financial, professional, or personal security faltered since the recession began? Have you wasted way too much time and energy worrying about what is going to happen next? Are you interested in some new strategies that will help you no matter which way the economy goes next? Do you want to know what financially successful people are doing right now?
Learn more about "How to Thrive In the New Economy No Matter What Circumstances Come Your Way"
OR BUY IT NOW FOR $59
---
Time Management Tool
Time is our number one commodity. It is limited and there is no way to get any more. How good are you at managing your time? Most of us have certain habits and tendencies that waste time. Did you know that your habits and tendencies are often an outcome of your behavioral style? And once you know your behavioral style and the motivation behind the behavior, it's easier to understand the habit and change it - finally!

Learn how to become a wizard of time mastery
OR BUY IT NOW FOR $79
---
I.H.E.L.P Selling System
Find Out What You Need To Supplement Your Marketing Efforts… Finally Bringing You New Clients and Customers for Your Business.
Get your copy of this powerful program, designed by entrepreneur coaches Chris Kenney and Nancy Roberts, and finally see results from the marketing you ALREADY HAVE in place.
Learn more about this selling system
BUY IT NOW FOR $147 OR TWO MONTHLY PAYMENTS OF $87.24
---
Income 180 System
Let Us Help You Get Focused On The Essential Steps To Building A Business So You Can Eliminate Overwhelm, Turn Around Your Income, And Finally Get To Do More Of What You Love"
Learn more about how to turn your income around in just 90 days!
BUY IT NOW FOR $997
OR PAY THREE MONTHLY PAYMENTS OF $397